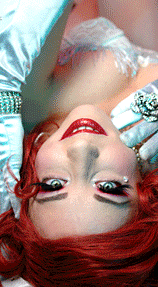 Burlesque, Variété, Cabaret, Retrotainment; Dancers, DJs, workshop etc....
for YOUR business, event or venue.
Bookings are welcome (contact).
Madame Risquée (Amsterdam) provides Burlesque starlets, Cabaret, Vaudeville, Retro Style and Night Club entertainment, DJs, VJ, dancers, tailored shows and Burlesque workshops for your business, event or location.
The mysterious Madame Risquée and her crew also promotes and organsises burlesque related events since she and two colleagues brought Burlesque to the Netherlands in 2004. She has produced the most burlesque shows ever since and is the force behind Midnite Burlesque, Burlesque FreakOut, Retrolicious events, 1920's inspired parties etc. Has provided deejays and performers for: Paradiso, Tuschinski, Melkweg, Ahoy, Huis ter Duin, Comedy Theater, festivals, clubs and event agencies. She knows what acts fit your event.